What are Manuel Time Entries? How to use them?
Hello Friends! 😊
Today, I will talk about the "Manual Time Entries" feature that we have recently added to our system. Let's quickly dive in to learn more!
What is Manual Time Entries? ⏰
This feature allows you to adjust your work hours in case you forget to start Worktivity during your working hours due to busyness or forget to take a break. It also accounts for time lost during meetings, phone calls, or being away from the computer. With approval from your managers, you can directly affect your working hours using these entries.
Likewise, managers can mark unproductive time spent by employees, affecting their work hours.
How to Use Manual Time Entries? 📝
1.Go to App.useworktivity.com and click on the "Manual Entries Time" button in the left menu.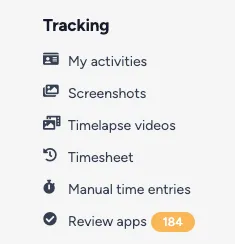 2.On the opened page, you can observe the data you entered in the past, including date, time, work status, productivity status, and the reasons for the entries.

3.To add a new entry, click on the "+Add" button. After selecting the start and end date, work status, and productivity status, specify a reason and click the "Add time entry" button.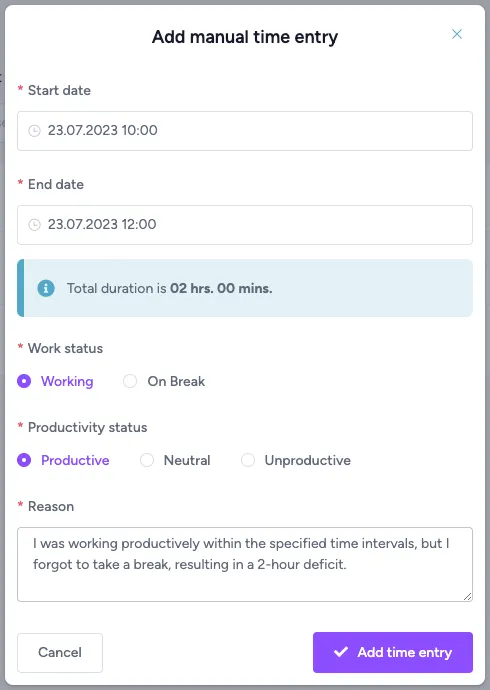 4.You can delete pending entries and make new additions using the "Delete" button. Employees cannot delete data that has been approved or rejected by managers.

5.Use the "Filter" button to filter data by date and status (Pending, Approved, Rejected).
With Manual Time Entries, we are providing a way to prevent errors and forgetfulness, and it's easy to use! 🚀
You can also access our article on "Usage and benefits of productivity" from here. 😉